Glossary Of Terms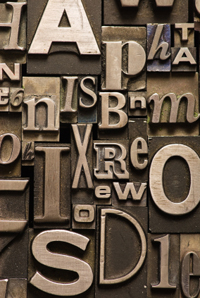 We take great pride in making our clients feel confident about their jobs during the production process. To help you gain a better understanding of what's happening to your project, we've compiled a glossary of terms that we commonly use in our industry.
A
B
C
D
E
G
I
K
L
M
O
P
R
S
T
U
V
Abrasion Resistance

The resistance to scratching of a surface of paper by other paper surfaces or other materials.

Alignment

The condition of type and or art materials as they level up on a horizontal or vertical line.

Art Work

Any materials or images that are prepared for graphic reproduction.

Artwork

All illustrated material, ornamentation, photos and charts etc., that is prepared for reproduction.

Balance

A term used to describe the aesthetic or harmony of elements, whether they are photos, art or copy, within a layout or design.

Banner

The primary headline usually spanning the entire width of a page.

Bleed

Extra ink area that crosses trim line, used to allow for variations that occur when the reproduction is trimmed or die-cut.

Blow-up

Any enlargement of photos, copies or line art.

Boldface

Any type that has a heavier black stroke that makes it more conspicuous.

Bullet

A boldface square or dot used before a sentence to emphasize its importance.

Camera Ready

A term given to any copy, artwork etc., that is prepared for photographic reproduction.

Caps & Lower Case

Instructions in the typesetting process that indicate the use of a capital letter to start a sentence and the rest of the letters in lower case.

Caps & Small Caps

Two sizes of capital letters made in one size of type.

Color Bars

This term refers to a color test strip, which is printed on the waste portion of a press sheet. It is a standardized (GATF-Graphic Arts Technical Foundation) process which allows a pressman to determine the quality of the printed material relative to ink density, registration, and dot gain. It also includes the Star Target, which is a similar system designed to detect inking problems.

Color Separating

The processes of separating the primary color components for printing.

Continuous Tone

Image made of non-discernable picture elements which give appearance of continuous spectrum of grey values or tones.

Contrast

The degree of tonal separation or gradation in the range from black to white.

Copy

Refers to any typewritten material, art, photos etc., to be used for the printing process.

Crop

To eliminate a portion of the art or copy as indicated by crop marks.

Crop Mark

Markings at edges of original or on guide sheet to indicate the area desired in reproduction with negative or plate trimmed (cropped) at the markings.

Curl

Not lying flat and tending to form into cylindrical or wavy shapes. A term to describe the differences of either side of a sheet relative to coatings, absorbency etc.; the concave side is the curl side.

Cyan

A shade of blue used in the four-color process; it reflects blue and green and absorbs red.

Delete

An instruction given to remove an element from a layout.

Die Cutting

A method of using sharp steel ruled stamps or rollers to cut various shapes i.e. labels, boxes, image shapes, either post press or in line. The process of cutting paper in a shape or design by the use of a wooden die or block in which are positioned steel rules in the shape of the desired pattern.

Dimensional stability

The qualities of a substrate to stabilize its original size when undergoing pressure or exposure to environmental elements such as moisture, sun light and temperature extremes.

Dot

The smallest individual element of a halftone.

Dot Gain

Darkening of halftone image due to ink absorption in paper causing halftone dots to enlarge. Terms to describe the occurrence whereby dots are printing larger than they should.

Drop Shadow

A shadow image placed strategically behind an image to create the affect of the image lifting off the page.

Electronic Composition

The assembly of characters into words, lines and paragraphs of text or body matter with graphic elements in page layout form in digital format for reproduction by printing.

Engraving

A printing process whereby images such as copy or art are etched onto a plate. When ink is applied, these etched areas act as small wells to hold the ink; paper is forced against this die and the ink is lifted out of the etched areas creating raised images on the paper.

Gigo

Impression

Product resulting from one cycle of printing machine. The pressure of the image carrier, whether it be the type, plate or blanket, when it contacts the paper.

Italic

Text that is used to denote emphasis by slanting the type body forward.

Kerning

The narrowing of space between two letters so that they become closer and take up less space on the page.

Leading

Space between lines of type; the distance in points between one baseline and the next.

Margin

Imprinted space around edge of page.

Over Run

Surplus of copies printed.

Paperboard

Any paper with a thickness (caliper) of 12 points (.3mm) or more.

Peeling

Pica

Standard of measurement, 1/6 inch. 1 pica = 12 points 72 points = 1 inch

Point

A measurement unit equal to 1/72 of an inch. 12 points to a pica, 72 points to an inch.

Ppi

Primary Colors

In printing the four primary colors are cyan (blue), magenta (red), yellow and black.

Process Inks

Printing inks, usually in sets of four colors. The most frequent combination is yellow, magenta, cyan, and black, which are printed, one over another in that order, to obtain a colored print with the desired hues, whites, blacks, and grays.

Register Marks

Any crossmarks or other symbols used on layout to assure proper registration.

Satin Finish

A smooth delicately embossed finished paper with sheen.

Scaling

The enlargement or reduction of an image or copy to fit a specific area.

Spot Color

Small area printed in a second color.

Step And Repeat

A process of generating multiple exposures by taking an image and stepping it according to a predetermined layout.

Tack

The adhesive quality of inks.

Up

A term used to describe how many similar sheets can be produced on a larger sheet; two up, four up, etc.

Vignette

Fade to white or small decorative design or illustration. A photo or illustration etc., in which the tones fade gradually away until they blend with the surface they are printed on.